Click on the image for a larger view



Rocky lived with us for 3+ years and made beautiful music with our Sunglo and Sage'n Sand girls. We lost him suddenly and still miss him terribly. His legacy will live on in his children and grandchildren.

As any long time breeder will tell you, dogs come into your life, stay with you awhile, leave a lasting impression and then pass out of your life. It is never easy to lose one of our Boston friends and the last year has hit us especially hard. This page is in rememberance of those who we've lost and will grieve for a while longer.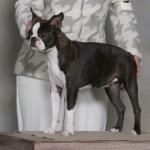 Traylee was our Vinny daughter and had just started a promising show career when she was struck down by a head injury suffered as the result of a collision with a chair while horseplaying with her siblings. This was especially hard for all of us, particulary for Susan's son Brayden as she was his particular favorite.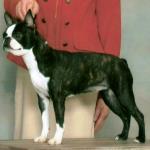 Reese was one of Trib's daughters who quietly got her Championship and was a fixture around the kennel waiting for the right guy. Unfortunately a possible pregnancy triggered Autoimmune Hemolytic Anemia (AIHA) and we lost her in an instant.  Another tough one as she was a very sweet girl.

Trib was one of the last full blooded Sag'n Sand dogs (Mitchel's son). Born in 2001 he lived a full long life and left a legacy of 23 children. A late bloomer he didn't complete his championship until 2008, thanks in part to a clerical error. He was a gentle soul and spent his last couple of years as a senior pampered and loved.